Window Cord Strangulation in Children Creates a Cause for Concern and a Call for Increased Safety Measures Among Parents
Making sure your children are safe from danger sometimes seems like a near impossible task especially as they get to the age where they can crawl and walk. Making sure they stay safe is our main priority as child injury lawyers and we are sure it is yours as a parent also. A few months ago there was a major recall issued for blinds and shades that recalled nearly 5.5 million blinds and shades due to a danger to infants and young children. The recall was issued shortly after the federal authorities were made aware of three deaths and seven near death situations that occurred when children became entangled in the blinds and shades. Parents were warned to review the list of shades and blinds that were recalled so that they can possibly avoid an accidental death or injury of their children and loved ones children.

While the recall did include 5.5 million blinds and shades it no everyone may have been made aware of the recall and also there may possibly be other brands of shades and blinds that need to be recalled that haven't been yet. Recently a toddler boy died after becoming entangled in a drapery cord. The family was home and when they went to check on the child they found him not breathing and unresponsive they tried to perform CPR on the child but the child was unable to be revived.

Accidental deaths such as this one seem to happen far too often to young children. If you have a child or know family members or friends with young children make sure you pass this information along – it may save your child or someone else's child's life.

Here are some tips to help keep your child safe when it comes to blinds, shades and other types of drapery:
Avoid windows coverings with cords when possible
If you have looped cord blinds or drapes cut the loop to avoid the danger of a child becoming entrapped and strangling (See image below).
Do not let the cord on the blinds or drapes hang too long – Make sure cords are at least 6 inches out of your child's reach. When trying to figure out how high up the cords should be keep in mind that your child can possibly jump or climb to get to the cords so always make sure the cords are kept far away from your child's crib, bed and furniture.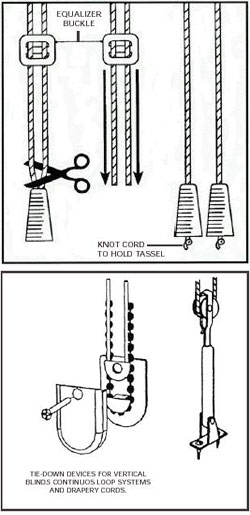 Category: Personal Injury
There are no comments.
Post a comment
Post a Comment to "Window Cord Strangulation in Children"
To reply to this message, enter your reply in the box labeled "Message", hit "Post Message."